行動解析

行動解析装置 SCANET-40シリーズ

MV-40 / SV-40 / CV-40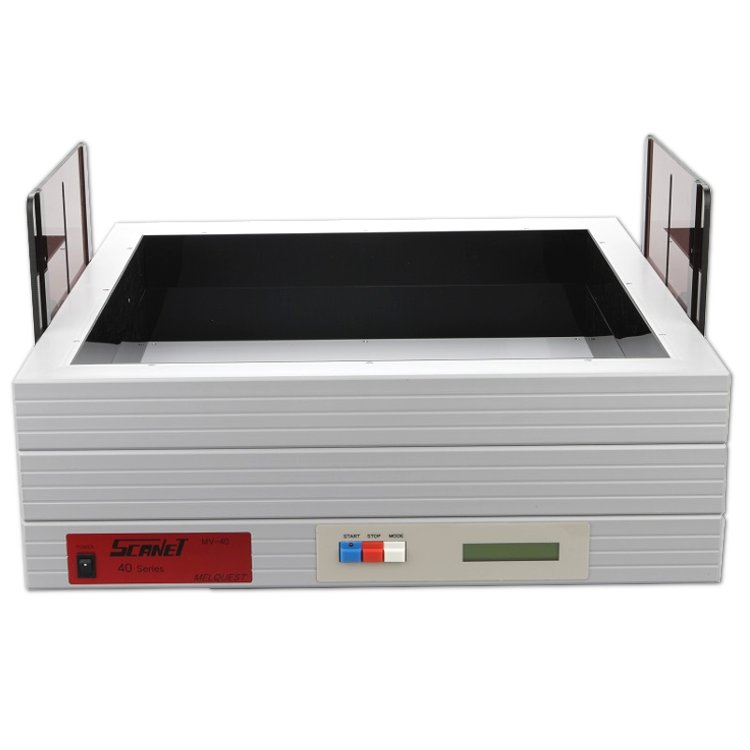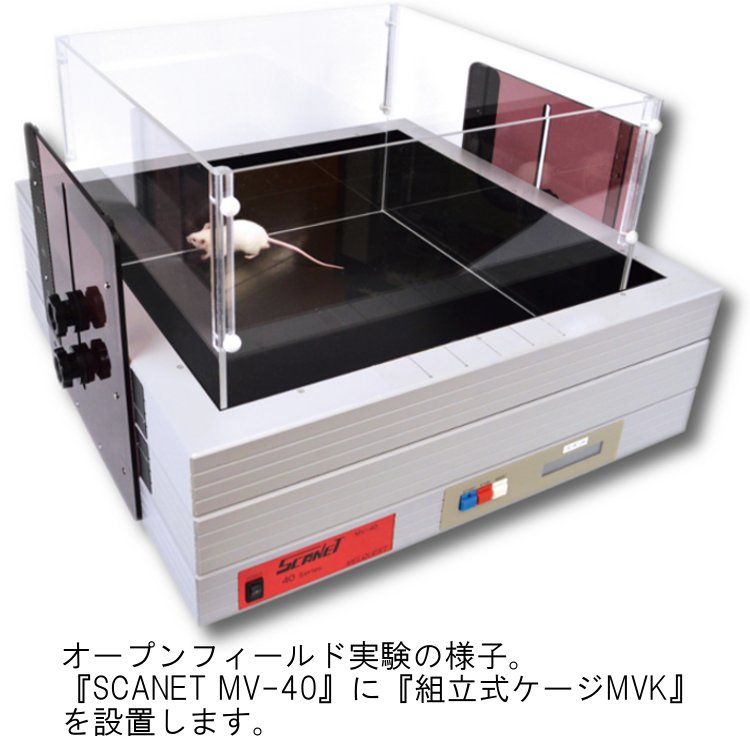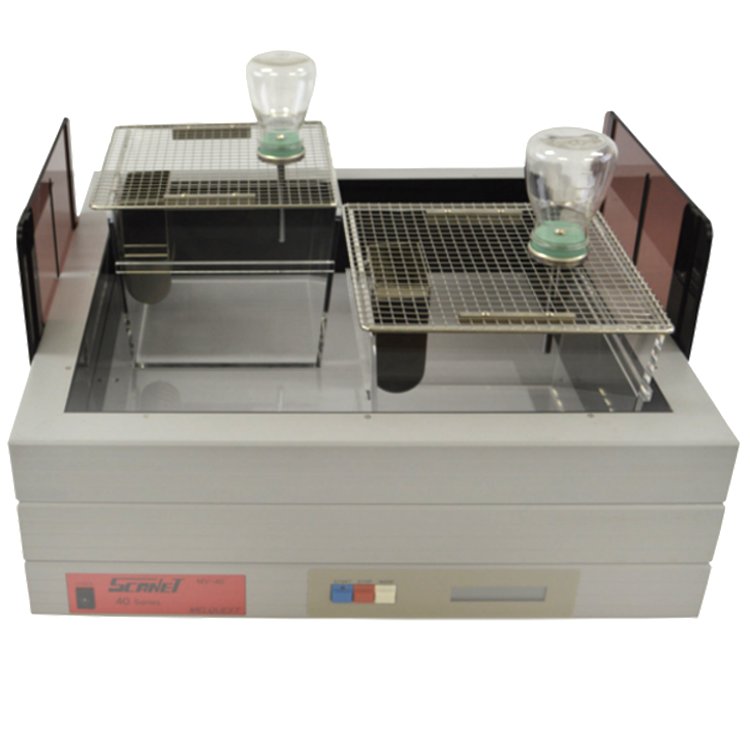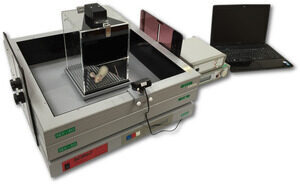 高密度に配置した赤外線センサーを用いて、マウス・ラットの行動解析を行う装置です。1台の装置で、自発運動量、薬物依存作用や抗不安、学習記憶テスト、抗うつスクリーニングテスト、恐怖条件付け実験など10個以上の実験モードに対応しているため、実験毎に測定装置を買い揃える必要がありません。
Kajita Piriyaprasath, Mana Hasegawa, Yoshito Kakihara, Yuya Iwamoto, Rantaro Kamimura, Isao Saito, Noritaka Fujii, Kensuke Yamamura, Keiichiro Okamoto
Effects of stress contagion on anxiogenic- and orofacial inflammatory pain-like behaviors with brain activation in mice.
European journal of Oral Sciences Volume 131, June 2023
※SCANET MV-40・ 社会的敗北ストレス試験 SDSモード・明暗ケージを使用
Mana Hasegawa, Kajita Piriyaprasath, Masanori Otake, Rantaro Kamimura, Isao Saito, Noritaka Fujii, Kensuke Yamamura, Keiichiro Okamoto
Effect of daily treadmill running exercise on masseter muscle nociception associated with social defeat stress in mice.
European Journal of Oral Science Volume 130, August 2022
※SCANET 社会的敗北ストレス試験 SDSモード・トレッドミルを使用
Toshinori Yoshioka ,Daisuke Yamada,Eri Segi-Nishida, Hiroshi Nagase,Akiyoshi Saitoh.
KNT-127, a selective delta opioid receptor agonist, shows beneficial effects in the hippocampal dentate gyrus of a chronic vicarious social defeat stress mouse model.
Neuropharmacology Volume 232, 1 July 2023, 109511
※SCANET社会的敗北ストレス試験 SDSモード・強制水泳を使用
Toshinori Yoshioka,Misaki Ohashi,Kenjiro Matsumoto,Tomoki Omata,Takumi Hamano,Mayuna Yamazaki,Sayaka Kimiki,Kotaro Okano,Riho Kobayashi,Daisuke Yamada,Noriyasu Hada, Shinichi Kato and Akiyoshi Saitoh.
Repeated psychological stress, chronic vicarious social defeat stress, evokes irritable bowel syndrome-like symptoms in mice.
Front. Neurosci. (2022) 16, 993132.
※SCANET MV-40を使用
Toshinori Yoshioka,Daisuke Yamada,Riho Kobayashi,EriSegi-Nishida,Akiyoshi Saitoh.
Chronic vicarious social defeat stress attenuates new-born neuronal cell survival in mouse hippocampus
Behavioural Brain Research Volume 416, 7 January 2022, 113536
※SCANET MV-40を使用
Tashiro T, Murakami Y, Mouri A, Imamura Y, Nabeshima T, Yamamoto Y, Saito K.
Behav Brain Res. 2017 Jan 15;317:279-285. doi: 10.1016/j.bbr.2016.09.050.  PMID: 27693848
Kynurenine 3-monooxygenase is implicated in antidepressants-responsive depressive-like behaviors and monoaminergic dysfunctions.
Murakami Y, Ishibashi T, Tomita E, Imamura Y, Tashiro T, Watcharanurak K, Nishikawa M, Takahashi Y, Takakura Y, Mitani S, Fujigaki H, Ohta Y, Kubo H, Mamiya T, Nabeshima T, Kim HC, Yamamoto Y, Saito K.
Sci Rep. 2016 Jul 20;6:29920. doi: 10.1038/srep29920. PMID: 27436416
Depressive symptoms as a side effect of Interferon-α therapy induced by induction of indoleamine 2,3-dioxygenase 1.
※SCANET MV-40・強制水泳用ボックス・強制水泳キットを使用
Tomoaki Tezuka, Makoto Tamura, Mari A.Kondo, Masaki Sakaue, Kinya Okada, Kana Takemoto, Atsuhi Fukunari, Keiko Miwa, Hiromitsu Ohzeki, Shin-ichi Kano, Hiroshi Yasumatsu, Akira Sawa,Yasushi Kajii
Neurobiol Dis. 2013 Nov; 59: 63-68. Published online 2013 Jul 16. doi:  10.1016/j.nbd.2013.07.003
Cuprizone short-term exposure: astrocytic IL-6 activation and behavioral changes relevant to psychosis
※SCANET MV-10を使用
Munehisa Shinozaki, Akimasa Yasuda, Satoshi Nori, Nobuhito Saito, Yoshiaki Toyama, Hideyuki Okano, and Masaya Nakamura
Neurologia medico-chirurgica., Oct 2013; doi: 10.2176/nmc.tn2012-0223
Novel Method for Analyzing Locomotor Ability After Spinal Cord Injury in Rats:Technical Note
※SCANET用速度・加速度算出ソフトウェアVAC-SCL-40を使用
M. Shinozaki, Y. Takahashi, M. Mukaino, N. Saito, Y. Toyama, H Okano and M. Nakamura.
J. Biomed. Biotechnol. 2011;2011:157458.
Novel Concept of Motor Functional Analysis for Spinal Cord Injury in Adult Mice.
M. Shobo, Y. Kondo, H. Yamada, T. Mihara, N. Yamamoto, M. Katsuoka, K. Harada, K. Ni, and N. Matsuoka
J. Pharmacol. Exp. Ther., Jun 2010; 333: 772 – 781.
Norzotepine, a Major Metabolite of Zotepine, Exerts Atypical Antipsychotic-Like and Antidepressant-Like Actions through Its Potent Inhibition of Norepinephrine Reuptake
Yoshitake Sano, Veravej G. Ornthanalai, Kazuyuki Yamada, Chihiro Homma, Hitomi Suzuki, Toshiharu Suzuki, Niall P. Murphy, and Shigeyoshi Itohara
J. Neurosci., May 2009; 29: 5884 – 5896.
X11-Like Protein Deficiency Is Associated with Impaired Conflict Resolution in Mice
Katsuya Morita, Naoyo Motoyama, Tomoya Kitayama, Norimitsu Morioka, Koki Kifune, and Toshihiro Dohi
J. Pharmacol. Exp. Ther., Aug 2008; 326: 633 – 645.
Spinal Antiallodynia Action of Glycine Transporter Inhibitors in Neuropathic Pain Models in Mice
Hironao Nakayama, Kiyoyuki Kitaichi, Yukiko Ito, Katsunori Hashimoto, Kenji Takagi, Toyoharu Yokoi, Kenzo Takagi, Norio Ozaki, Tuneyuki Yamamoto et al.
Brain Res., Dec 2007; 1184: 260 – 269.
The role of organic cation transporter-3 in methamphetamine disposition and its behavioral response in rats
Norimasa Taniguchi and Shigeyuki Kanai
Evid. Based Complement. Altern. Med., Mar 2007; 4: 99 – 105.
Efficacy of Static Magnetic Field for Locomotor Activity of Experimental Osteopenia
Minae Niwa, Atsumi Nitta, Hiroyuki Mizoguchi, Yasutomo Ito, Yukihiro Noda, Taku Nagai, and Toshitaka Nabeshima
J. Neurosci., Jul 2007; 27: 7604 – 7615.
A Novel Molecule "Shati" Is Involved in Methamphetamine-Induced Hyperlocomotion, Sensitization, and Conditioned Place Preference
Takafumi Shirakawa, Kenji Nakano, Naomi S. Hachiya, Nobumasa Kato, Kiyotoshi Kaneko
Neurosci Res,2007; 59: 117-23.
Temporospatial patterns of COX-2 expression and pyramidal cell degeneration in the rat hippocampus after trimethyltin administration.
A Matsumoto, Y Okada, M Nakamichi, M Nakamura, Y Toyama, G Sobue, M Nagai, M Aoki, Y Itoyama, and H Okano
J Neurosci Res, Jan 2006; 83(1): 119-33.
Disease progression of human SOD1 (G93A) transgenic ALS model rats.
Li-Bo Zou, Akihiro Mouri, Nobuhisa Iwata, Takaomi C. Saido, Dayong Wang, Min-Wei Wang, Hiroyuki Mizoguchi, Yukihiro Noda, and Toshitaka Nabeshima
J. Pharmacol. Exp. Ther., Apr 2006; 317: 334 – 340.
Inhibition of Neprilysin by Infusion of Thiorphan into the Hippocampus Causes an Accumulation of Amyloid b and Impairment of Learning and Memory
Y Yamaguchi, H Miyashita, H Tsunekawa, A Mouri, H-C Kim, K Saito, T Matsuno, S Kawashima, and T Nabeshima
J. Pharmacol. Exp. Ther., Jun 2006; 317: 1079 – 1087.
Effects of a Novel Cognitive Enhancer, Spiro[imidazo-[1,2-a]pyridine-3,2-indan]-2(3H)-one (ZSET1446), on Learning Impairments Induced by Amyloid-b1-40 in the Rat
Kiyoyuki Kitaichi, , Masaya Fukuda, Hironao Nakayama, Nagisa Aoyama, Yukiko Ito, Yohei Fujimoto, Kenji Takagi, Kenzo Takagi and Takaaki Hasegawa
Neurosci. Lett., July 2005; 382: 195 – 200.
Behavioral changes following antisense oligonucleotide-induced reduction of organic cation transporter-3 in mice
Takatoshi Murase, Satoshi Haramizu, Akira Shimotoyodome, Azumi Nagasawa, and Ichiro Tokimitsu
Am J Physiol Regulatory Integrative Comp Physiol, Mar 2005; 288: R708 – R715.
Green tea extract improves endurance capacity and increases muscle lipid oxidation in mice
Yoshiaki Miyamoto, Ling Chen, Masahiro Sato, Masahiro Sokabe, Toshitaka Nabeshima, Tony Pawson, Ryuichi Sakai, and Nozomu Mori
J. Neurosci., Feb 2005; 25: 1826 – 1835.
Hippocampal Synaptic Modulation by the Phosphotyrosine Adapter Protein ShcC/N-Shc via Interaction with the NMDA Receptor
T MAMIYA, T MATSUMURA, and M UKAI
Ann. N.Y. Acad. Sci., Oct 2004; 1025: 424 – 429.
Effects of L-745,870, a Dopamine D4 Receptor Antagonist, on Naloxone-Induced Morphine Dependence in Mice
Norimasa Taniguchi, Shigeyuki Kanai, Masazumi Kawamoto, Hiroshi Endo, and Hideaki Higashino
Evid. Based Complement. Altern. Med., Sep 2004; 1: 187 – 191.
Study on Application of Static Magnetic Field for Adjuvant Arthritis Rats
Takanori Akagi, Kazami Ushinohama, Shoko Ikesue, Eiji Yukawa, Shun Higuchi, Kenji Hamase, Kiyoshi Zaitsu, and Shigehiro Ohdo
J. Pharmacol. Exp. Ther., Jan 2004; 308: 378.
Chronopharmacology of Melatonin in Mice to Maximize the Antitumor Effect and Minimize the Rhythm Disturbance Effect
Hiroyuki Mizoguchi, Kiyofumi Yamada, Makoto Mizuno, Tomoko Mizuno, Atsumi Nitta, Yukihiro Noda, and Toshitaka Nabeshima
Mol. Pharmacol., May 2004; 65: 1293 – 1301.
Regulations of Methamphetamine Reward by Extracellular Signal-Regulated Kinase 1/2/ets-Like Gene-1 Signaling Pathway via the Activation of Dopamine Receptors
K Shimosato and S Watanabe
J Neurosci Methods, Sep 2003; 128(1-2): 103-10.
Concurrent evaluation of locomotor response to novelty and propensity toward cocaine conditioned place preference in mice.
Y Mikami, M Toda, M Watanabe, M Nakamura, Y Toyama, and Y Kawakami
J Neurosurg, Jul 2002; 97(1 Suppl): 142-7.
A simple and reliable behavioral analysis of locomotor function after spinal cord injury in mice. Technical note.
Yoshiaki Miyamoto, Kiyofumi Yamada, Yukihiro Noda, Hisashi Mori, Masayoshi Mishina, and Toshitaka Nabeshima
J. Neurosci., Mar 2002; 22: 2335.
Lower Sensitivity to Stress and Altered Monoaminergic Neuronal Function in Mice Lacking the NMDA Receptor e4 Subunit
Satoru Koyanagi and Shigehiro Ohdo
Mol. Pharmacol., Dec 2002; 62: 1393.
Alteration of Intrinsic Biological Rhythms during Interferon Treatment and Its Possible Mechanism
oshiaki Miyamoto, Kiyofumi Yamada, Yukihiro Noda, Hisashi Mori, Masayoshi Mishina, and Toshitaka Nabeshima
J. Neurosci., Jan 2001; 21: 750.
Hyperfunction of Dopaminergic and Serotonergic Neuronal Systems in Mice Lacking the NMDA Receptor e1 Subunit
Oliver Stork, Simone Stork, Hans-Christian Pape, and Kunihiko Obata
Learn. Mem., Jul 2001; 8: 209 – 219.
Identification of Genes Expressed in the Amygdala During the Formation of Fear Memory
K Shimosato, S Watanabe, and S Kitayama
Naunyn Schmiedebergs Arch Pharmacol, Jul 2001; 364(1): 74-80.
Differential effects of trihexyphenidyl on place preference conditioning and locomotor stimulant activity of cocaine and methamphetamine.
K Kobayashi, Y Noda, N Matsushita, K Nishii, H Sawada, T Nagatsu, D Nakahara, R Fukabori, Y Yasoshima, T Yamamoto, M Miura, M Kano, T Mamiya, Y Miyamoto, and T Nabeshima
J. Neurosci., Mar 2000; 20: 2418.
Modest Neuropsychological Deficits Caused by Reduced Noradrenaline Metabolism in Mice Heterozygous for a Mutated Tyrosine Hydroxylase Gene
Mayumi Yamano, Hidenobu Yuki, Syuhei Yasuda, and Keiji Miyata
J. Pharmacol. Exp. Ther., Jan 2000; 292: 181.
Corticotropin-Releasing Hormone1 Receptors Mediate Consensus Interferon-a YM643-Induced Depression-Like Behavior in Mice
K Shimosato and S Ohkuma
Pharmacol Biochem Behav, Jun 2000; 66(2): 285-92.
Simultaneous monitoring of conditioned place preference and locomotor sensitization following repeated administration of cocaine and methamphetamine.
Y Oike, A Hata, T Mamiya, T Kaname, Y Noda, M Suzuki, H Yasue, T Nabeshima, K Araki, and K Yamamura
Hum. Mol. Genet., Mar 1999; 8: 387 – 396.
Truncated CBP protein leads to classical Rubinstein-Taybi syndrome phenotypes in mice: implications for a dominant-negative mechanism
Hiroko Ohki-Hamazaki, Yasushi Sakai, Katsuo Kamata, Hiroo Ogura, Shigeru Okuyama, Kei Watase, Kazuyuki Yamada, and Keiji Wada
J. Neurosci., Feb 1999; 19: 948.
Functional Properties of Two Bombesin-Like Peptide Receptors Revealed by the Analysis of Mice Lacking Neuromedin B Receptor
Yukihiro Noda, Takayoshi Mamiya, Toshitaka Nabeshima, Miyuki Nishi, Masaya Higashioka, and Hiroshi Takeshima
J. Biol. Chem., Jul 1998; 273: 18047.
Loss of Antinociception Induced by Naloxone Benzoylhydrazone in Nociceptin Receptor-Knockout Mice
Yukihiro Noda, Yoshiaki Miyamoto, Takayoshi Mamiya, Hiroyuki Kamei, Hiroshi Furukawa, and Toshitaka Nabeshima
J. Pharmacol. Exp. Ther., Jul 1998; 286: 44.
Involvement of Dopaminergic System in Phencyclidine-Induced Place Preference in Mice Pretreated with Phencyclidine Repeatedly
Masayuki Hiramatsu, Hiroyasu Murasawa, Toshitaka Nabeshima, and Tsutomu Kameyama
J. Pharmacol. Exp. Ther., Mar 1998; 284: 858.
Effects of U-50,488H on Scopolamine-, Mecamylamine- and Dizocilpine-Induced Learning and Memory Impairment in Rats